Content Warnings: Urban Disaster, Claustrophobia, Strong Language
It was a warm day on the North End of Boston on January 15, 1919, around lunchtime on a Wednesday. World War I was about to end. Prohibition was about to start. Public views on ethnicity, queerness, and class were in a state of upheaval. And the enormous industrial tank rumbled.
They say, on warm days, you can still smell the molasses.
This is the first episode of a new story on Tabletop Garden! The Great Molasses Flood is a weird historical fiction campaign based on a real-life disaster using the Rosette Diceless system from Future Proof Games, a system designed in part by Gregory, the host and Narrator.
Episodes will come out weekly, but if you want to listen to the next one early as well as get occasional behind-the-scenes info from the Narrator, support them on Patreon:
Become a Patron!
Supplemental Material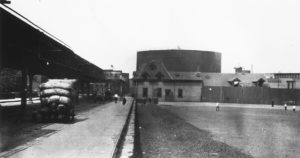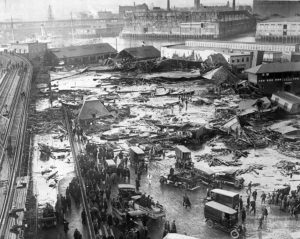 Player Characters
Lorenzo Caligari: A firefighter and veteran; second-generation Italian immigrant. He has Boundless Endurance and the Secret, "Why doesn't Lorenzo talk about his older brother Salvatore?"
Sam Michaels: A sailor and veteran on leave. He has Uncanny Insights and the Secret, "Why does Sam stay at sea despite the difficulties and limitations?"
Harmony Wright: An activist for the Socialist Party of Boston. She has Inner Peace and the Secret, "Why did Harmony come to Boston?"
NPCs
John Berry: A stonecutter who was hanging out with the firefighters.
George Lahey: A firefighter who was speaking with a strange man in a suit before the disaster.
The Man in the Suit: A strange individual with yellow, papery skin and a gray suit with horizontal black stripes. They were talking to George before the disaster.
The Person on the Hill: A strange individual wearing blue canvas trousers, a hooded red sweater, and an orange vest with glowing stripes. They were watching the neighborhood before the disaster and using a handheld adding machine.
Acknowledgements
The theme song for this campaign is "Great Molasses Disaster" by Robin Aigner and Parlor Game, available under a Creative Commons Attribution-NonCommercial-ShareAlike 3.0 license.
The main historical source for this campaign is Dark Tide: The Great Boston Molasses Flood of 1919 by Stephen Puleo.
We are using the Script Change RPG Toolbox by Beau Jágr Sheldon, available under a Creative Commons Attribution 4.0 license.